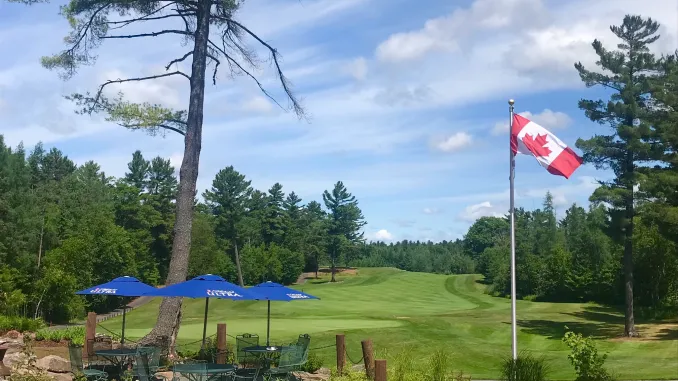 Words and Photos By: Grant Fraser
Harold Innis, a renowned 20th-century scholar and author, profoundly stated that, "Canada emerged not in spite of geography but because of it." In the realm of golf course architecture, the same can be said about ClubLink's Rocky Crest golf course.
Located in Mactier, in the renowned Muskoka region in central Ontario, Rocky Crest is a short 15-minute drive from Parry Sound and 20 minutes from Port Carling. Since its auspicious entry onto the Ontario golf scene in 2000, Rocky Crest has secured itself as one of Canada's finest 18-hole designs. Check any Top 50 or 100 best golf course list, past or present, and you'll see Rocky Crest firmly entrenched among the finest in the country. Measuring 6,884 yards, Rocky Crest is the brainchild of acclaimed Canadian architect Thomas McBroom, who quietly considers this to be one of his best in his extensive golf course design repertoire.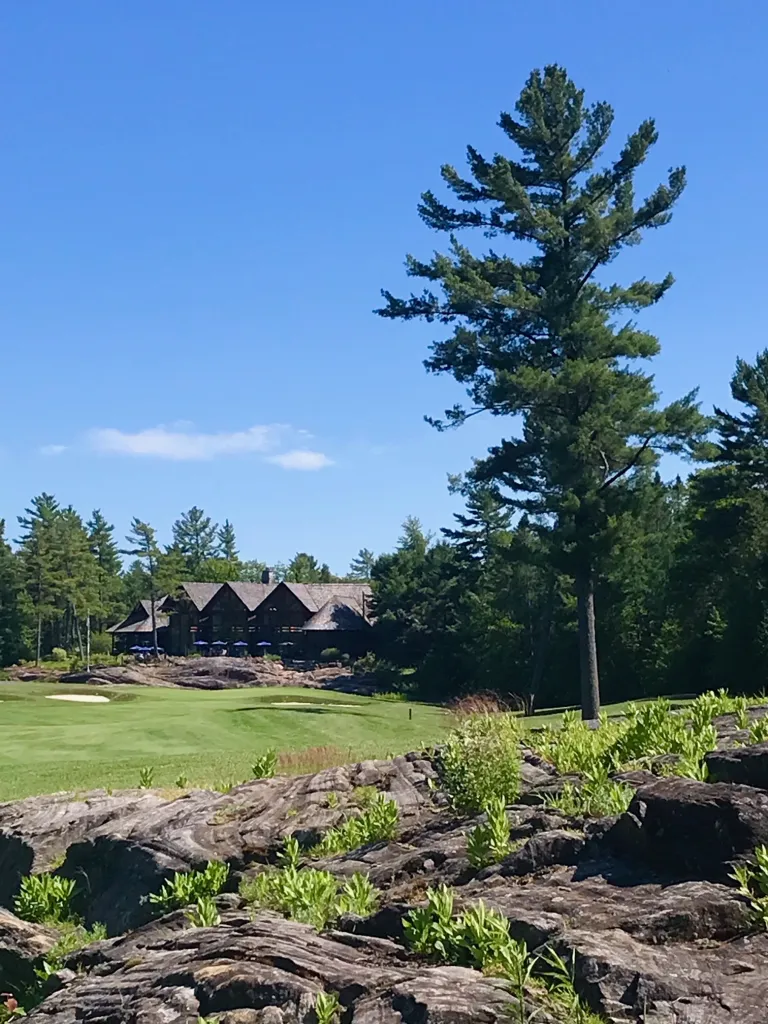 The classic Canadiana look
There were many things I liked about my Rocky Crest experience. Besides my fondness of the golf course, I appreciated its proximity to the neighbouring Rocky Crest Resort. Located a mere par 4 away, the short five-minute walk from my lakeside room to the first tee was greatly appreciated at 7:30 am.
While I thought every hole on the golf course was worthy of special mention, what impressed me most was its playability. Specifically, I am referring to the ease at which I was able to walk the golf course. My round at Rocky Crest is best described as a leisurely four-hour walk that led me through coniferous Muskoka forests and along rolling fairways meticulously carved through granite outcroppings. My walks after the 8th, 10th and 12th holes in particular reminded me how tranquil golf can be if you simply slow down and savour the moment.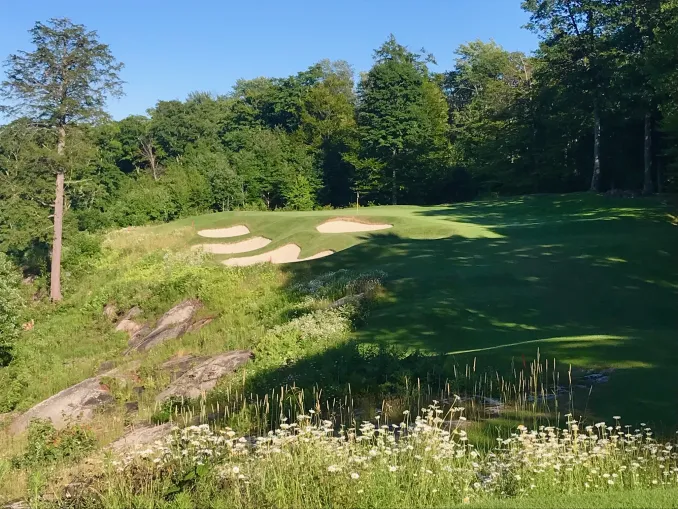 A natural setting for golf
All of the par 5's at Rocky Crest are exceptional. There are three on the front nine starting with the first hole. Measuring a modest 469 yards, this is an intentionally friendly introduction to the golf course.
Next is the 562-yard, 6th hole that is best appreciated from atop the back tee deck. From here, a granite rock wall provides a breathtaking perspective of how unique this property is. Depending on the time of day, the colours change as the light radiates off the different grey, pink and white mineral formations that comprise the wall. This is a pristine example of the Canadian Shield, the ancient core of our North American continent. Composed of metamorphosed granite and ribbons of other igneous and sedimentary rock, what you are looking at is a geological wonder dating back millions of years.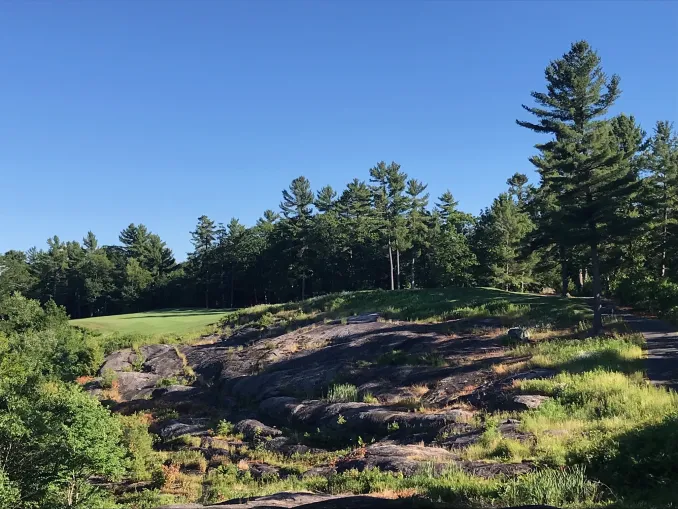 The Canadian Shield always in eyesight at Rocky Crest
McBroom follows up the difficult 6th hole with another par 5; the comparatively easier 471-yard, 7th hole. The shorter distance is welcomed as the hole affords a more reasonable birdie opportunity than its challenging predecessor, arguably the most difficult hole on the course.
The back nine at Rocky Crest features my two favourite holes on the golf course. The first is the 554-yard, Par 5, 12th hole. From tee to green, the hole has fantastic visual appeal as the tree-lined fairway descends and narrows before turning slightly left alongside a pond, seamlessly giving way to the undulating green.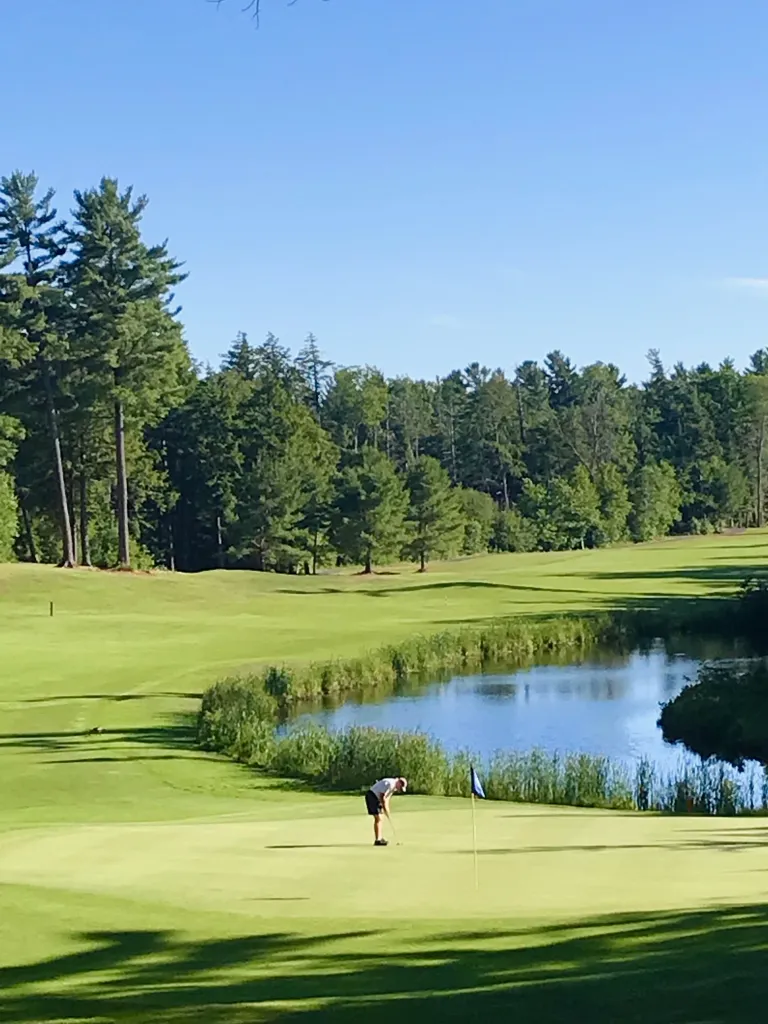 Then there is what many consider to be Rocky Crest's signature hole – the robust 553-yard, par 5, 18th hole. From the tee, your best drive of the day is a prerequisite to carry another granite rock wall and reach the fairway. Upon your safe arrival, the hole only gets better as you veer right and take your final 300-yard walk towards the rustic, log-cabin clubhouse and adjoining patio, perfectly situated overlooking the 18th green.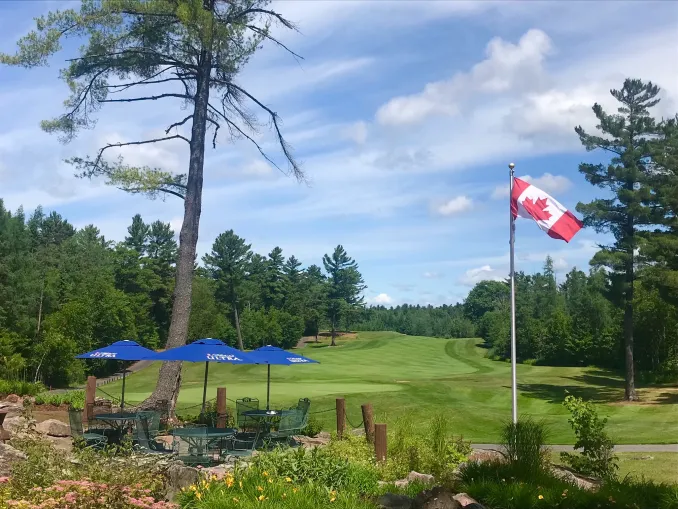 The patio view is tough to beat
Ask any golfer and they'll tell you that a special day of golf is one that you don't want to see come to an end. That was how I felt after nine holes and again after thanking my playing partners for our round as we departed the 18th green. In fact, I enjoyed my Rocky Crest experience so much I decided to stay an extra night at the resort and play again the following morning. I'm glad I did as my appreciation for the golf course and all its natural beauty was only furthered a second time around.
Rocky Crest Resort 
Located in Hamer Bay on Muskoka's pristine Lake Joseph, the Rocky Crest Resort is a pitching wedge away from the Rocky Crest golf course. While I may be exaggerating, the resort's 19 lakeside units are within walking distance to the golf course. No long drive to be on time for an early morning tee time is required here. Simply get out of bed, grab a coffee and head to the first tee. It doesn't get any better than that.
The accommodations at the Rocky Crest Resort were designed with the family in mind. As an all-suites resort, one and two-bedroom options featuring separate bedrooms, living room kitchenettes, jacuzzi tubs and fireplaces provide all the comforts of home. Only here, your front yard happens to be the clear waters of Lake Joseph.
The amenities at Rocky Crest are endless and will keep any outdoor enthusiast busy during their stay. For a few hours while you're across the street playing golf, other family members can enjoy an afternoon with a good book beside one of the resort's two pools, bike, hike, or hop into a kayak and paddle around Hamer Bay.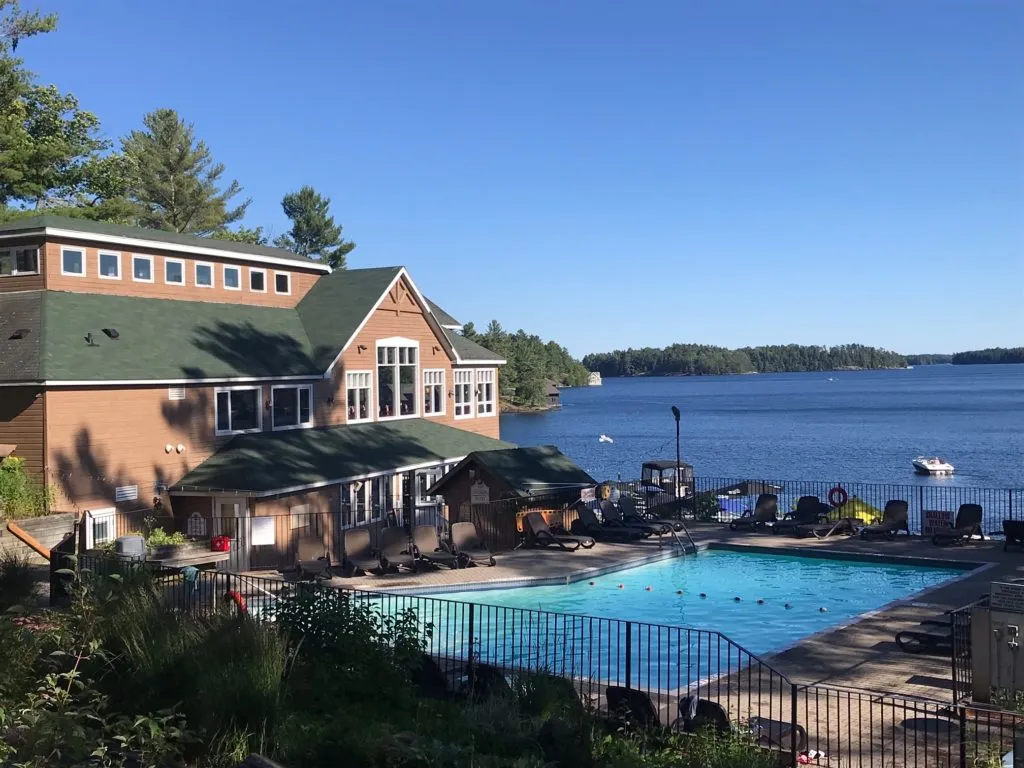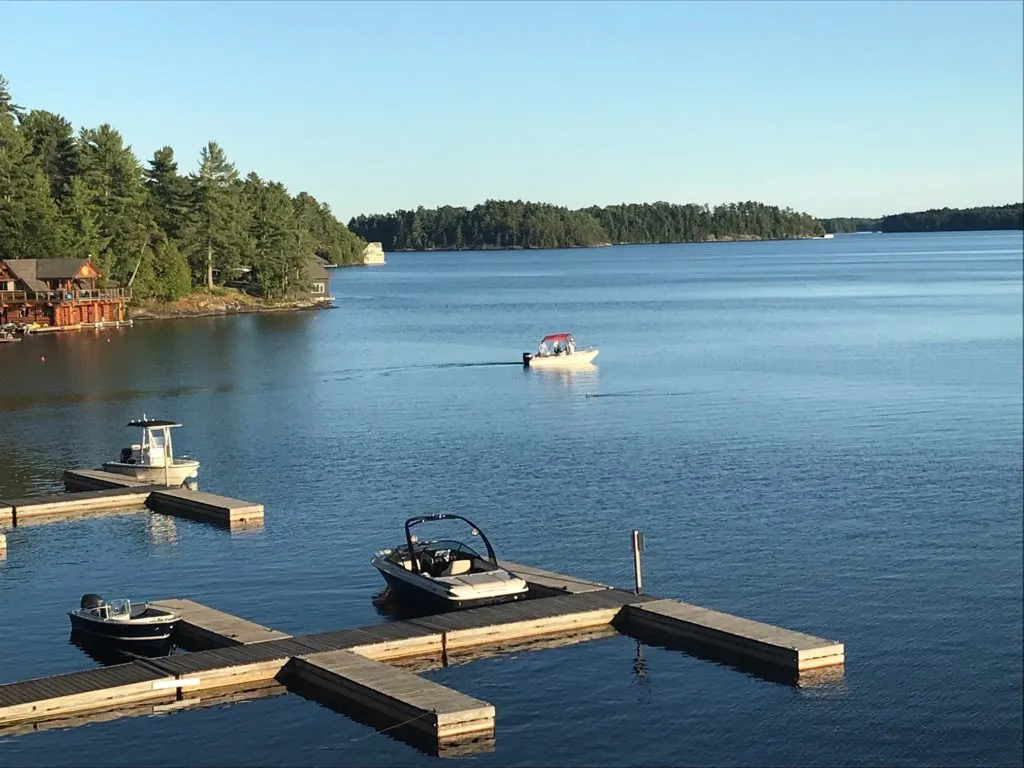 Windows Steakhouse 
Imagine yourself having dinner atop a lakeside boathouse. The sun is setting in the horizon as you enjoy a glass of red wine overlooking Lake Joseph. That's the ambiance you'll enjoy as part of your dining experience at Windows Steakhouse at the Rocky Crest Resort. While every entre on the menu is tempting, Windows is renowned for its steak selection as only the finest cuts of quality Canadian beef are served to the restaurant's discerning guests.
Windows is an award-winning restaurant that prides itself on using local ingredients and a long- time participant of "Savour Muskoka," a program committed to supporting farmers and businesses in the Muskoka area.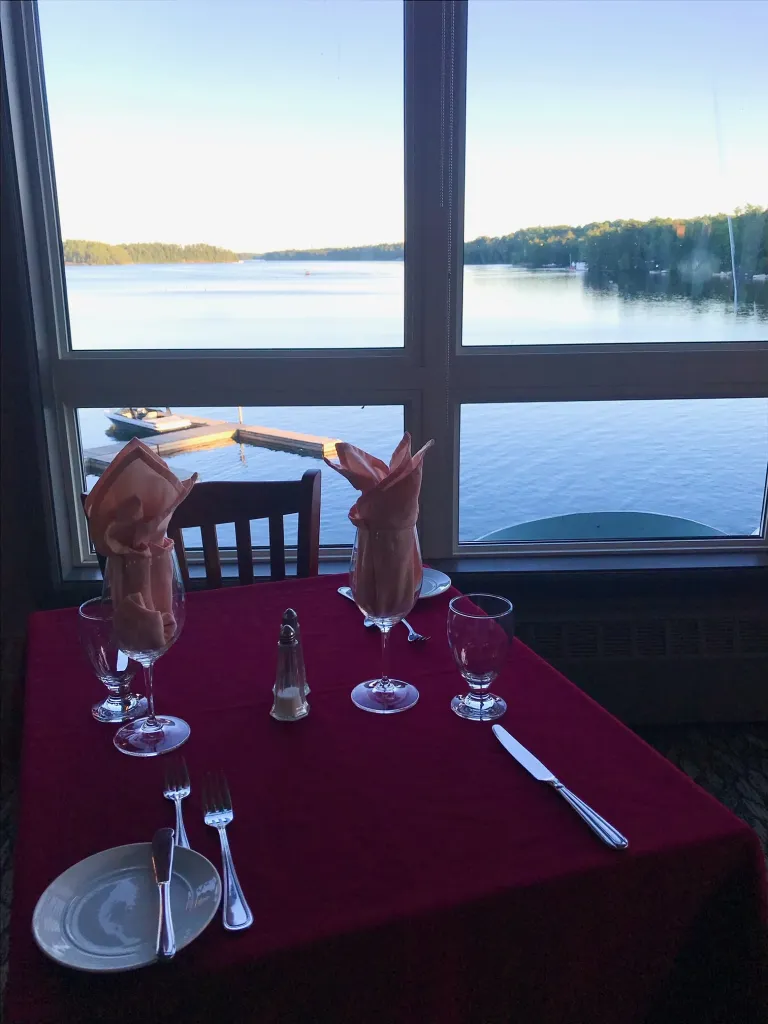 Stay and Play Packages
The best stay and play packages that include the Rocky Crest Resort and Lake Joseph Club are offered in May/June and September/October. Depending on the time of year and availability, prices start at approximately $400. I recommend 4 rounds of golf (two at Rocky Crest, two at Lake Joe) and a 3-night stay for starters. Having recently experienced this stay-and-play package, my only complaint was that I couldn't stay longer.
For accommodation details contact the Rocky Crest Golf Resort at 1-866-323-3305 or visit www.rockycrest.ca or Sherwood inn at 1-866-844-2228 or visit www.sherwoodinn.ca