If you have travelled extensively along Florida's vast coastline, you've likely seen signs welcoming you to the state's, First Coast, Gulf Coast, Historic Coast, Paradise Coast, or Treasure Coast, just to name a few. All are special places in their own right but none can boast having the moniker "World's Most Famous Beach". That prestigious honour has been bestowed by beach experts to Daytona Beach, an area of eastern Florida first discovered by Spanish explorer Ponce de Leon in 1513 in his adventurous search for the Fountain of Youth.
For historians, the city's namesake dates back to 1874 when Matthias Day, a wealthy businessman from Ohio, built the area's first hotel, 20 homes, a general store and a post office. Unfortunately not everyone shared Day's ambitions and he eventually ran out of money. Although the land was repossessed and Day returned back home to Ohio, he was widely considered to be the founding father of the city. Daytona officially became a city when it was incorporated in 1876 and continues to bear Matthias Day's name some 140 years later.
More than nine million people from all over the world visit Daytona Beach every year. If your initial thoughts of Daytona Beach conjure up images of drag races on the sand or decadent spring break parties dating back to your college days, you're not alone. Racing in Daytona first started in 1905 when stock car racing became a regular pastime along the hard-packed beaches of the area. For years, Daytona Beach was the wild and untamed child of Florida's winter vacation getaway scene. While Daytona Beach still maintains an attractive edginess, much has changed along this 23-mile stretch of pristine white sand that borders the warm waters of the Atlantic Ocean. Spring Break has evolved into a year-long , family-focused collection of 60+ renowned art, music and one-of-a-kind pop culture festivals and the iconic Daytona International Speedway, the world's largest motor sports stadium, is now a year-round operation featuring a variety of super-car races, driving schools, track tours and the Motor Sports Hall of Fame.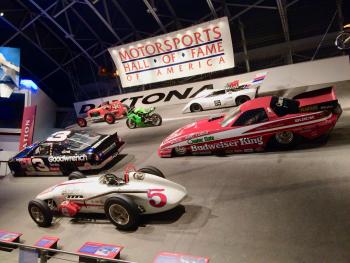 Built in 1959, the Speedway is the brainchild of car legend and NASCAR founder Bill France, Sr. The Daytona 500 is the automotive world's Super Bowl of racing and the season-opener to the NASCAR Sprint Cup Series. No event at the Speedway remains more popular than the Daytona 500, a tradition enjoyed by millions of fans every February on President's Day weekend. Contested on a 31-degree, 2.5-mile track, the 200-lap race has been captured by racing greats such as Richard Petty, Dale Earnhardt, Cale Yarborough, Jeff Gordon, Dale Jarrett, Bobby Allison, Mario Andretti, A.J. Foyt, Jimmie Johnson, and Dale Earnhardt Jr.
In 2013, the Daytona International Speedway underwent a $400 million "Daytona Rising" renovation project securing its place as the kingpin of Daytona Beach tourism.  This year is particularly special as 2018 marks the Daytona 500's 60th anniversary. As in years past, the 2018 edition of "The Great American Race" was a thriller as Austin Dillon held off all challengers to win his first Daytona 500.
While there is no disputing the Speedway's significance in Daytona Beach, there are plenty of other attractions worthy of your time. The Daytona Beach Pier is a popular 100-year old landmark and home to the famous Joe's Crab Shack restaurant; the place locals and visitors come for the best seafood in town.
The Ponce de Leon Inlet and Lighthouse is another Daytona Beach fixture that should be included in your travel itinerary. It is here that the mighty Atlantic Ocean and meandering Halifax River converge and the best views of Daytona Beach can be seen. Built in 1874, the impressive structure is Florida's tallest lighthouse and one of the tallest masonry lighthouses in the US. If you're willing to engage in some mild exercise by climbing the lighthouse's 203-step spiral staircase, panoramic vistas await 171 feet above atop the building's circular viewing area.
And then there's the golf. For golf aficionados, Daytona Beach will not disappoint as confirmed by Golf Digest who recently ranked the area in the Top 15 places to play golf in the US. While there may be more than 1,000 golf courses in Florida to experience, my travels focused on courses within a one -hour drive from Daytona Beach in close proximity to both the I-95 and I-4 highways. Encompassing both Volusia and Flagler Counties, there are approximately 20 public golf courses in the greater Daytona Beach area. Among the best are the two courses at LPGA International, home of the Ladies Professional Golf Association and host site of the 2017 Symetra Tour Championship and LPGA Qualifying School. Both the 7,088-yard Jones Course (rating/slope- 75.0/142) and 6,984-yard Hills Course (rating/slope 74.1/143) are fair and enjoyable to play. Five sets of tees are featured on both designs ensuring there is an appropriate yardage for everyone to play from regardless of handicap.
I also had the pleasure of playing Victoria Hills, a 7,149-yard (rating/slope – 74.2/141) Ron Garl-design located in the nearby town of DeLand. Opened in 2000, the course features over 100 cavernous bunkers and elevation changes atypical of most Florida designs.
Another personal recommendation involves a 60-mile drive north along I-95 to St. Augustine's World Golf Village and World Golf Hall of Fame & Museum. More than 4,000 golf artifacts, old and new, are on display tastefully showcasing the history and traditions of the game. A highlight for me included a tour of the member Locker Room where the likes of Nicklaus, Palmer, Player, Watson and Mickelson (just to name a few) have each left mementos behind in their own personalized locker for fans to see and appreciate.
There are two official courses at the World Golf Hall of Fame; The King & Bear and Slammer & Squire. The former is the only golf course collaboration between two of the game's greats – Arnold Palmer and Jack Nicklaus. The latter was designed by architect Bobby Weed along with golf legends Sam Snead ("The Slammer") and Gene Sarazen ("The Squire").  Both are certainly worth playing and have been listed among Golf Digest's "Top 75 Golf Courses in Florida" in the past.
It's no secret that most Canadians make their annual golf pilgrimage to Florida shortly after the pins have been pulled and the turf equipment stored away for the winter. Usually this mass exodus happens between December and March when thousands of sun-seekers flee our cold climate in desperate search of warmer temperatures. This year's winter is no exception and if you're looking for a Florida vacation getaway that involves fast cars and great golf courses, the month of February is the perfect time to visit the World's Most Famous Beach.
Getting There
Air Canada and WestJet offer regular non-stop flights from Toronto and Montreal to Orlando and Jacksonville.  Both international airports are approximately 1 hour from Daytona Beach. For more information visit www.aircanada.com or www.westjet.com
Daytona International Speedway
www.daytonainternationalspeedway.com
Great Courses to Play
LPGA International – www.lpgainternational.com
King & Bear – www.worldgolfvillage.com
Slammer & Squire – www.worldgolfvillage.com
Victoria Hills – www.victoriahillsgolf.com
For more information and a listing of the best courses and golf packages in the Daytona Beach area, I recommend visiting www.daytonabeach.com or www.DaytonaBeach.Golf
World Golf Village and World Golf Hall of Fame & Museum
www.worldgolfvillage.com
www.worldgolfhalloffame.org
General Travel Information About Daytona Beach and Florida
www.DaytonaBeach.com
http://www.visitflorida.com