With over 100 of the best golf courses in the U.S. stretched 60 miles alongside the Atlantic Ocean, where else could you possibly host the World Amateur Handicap Championship other than Myrtle Beach, South Carolina? I first heard about the World Amateur Handicap Championship at the 2013 Toronto Golf and Travel Show. I was introduced to Jeff Monday, the event's tournament director, who talked to me about this event that has happened the last week of August in Myrtle Beach since 1984. At first it sounded intimidating – "the World Am"- especially to a guy who has never played competitive golf other than a five dollar nassau on weekends with his friends. But, after hearing more, and talking to a few guys who had played the year before, I was sold.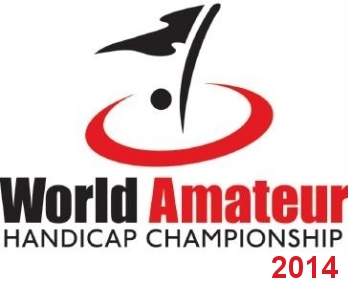 As the names suggests, this is the place to play for amateur golfers who want to see how their game stacks up against others with a similar handicap. Affectionately referred to as the "Everyman's U.S. Open", it doesn't matter if you're a 6, 16 or 36 handicap, there is a flight for everyone. In addition to flights, players can compete in a specific age category – 4 age divisions for men (49 and under, senior men 50-59, mid senior men 60-69, and super senior men 70 and above) and one for women.  Don't worry about sandbaggers. The organizers of the World Am carefully scrutinize every player's handicap so everyone is competing on a fair and level playing field.
This year, over 3,400 golfers from 25 countries competed in more than 60 flights for the coveted World Am title. The format is individual net stroke play. Golfers play 18 holes per day over four days on four different championship courses.  Of the 100+ courses located along the Grand Strand, more than 60 of the best participate as a host club for the World Am Championship. After four days of competition, all flight winners (and ties) advance to the fifth round "Flight Winner's Playoff" where one golfer emerges as the World Champion.
As competitive as the event is, it's equally as fun. The 19th hole, or the après golf party, takes place every night at the Myrtle Beach Convention Centre. It is here that all the players and their guests come to indulge in free food and drinks, visit the 60-vendor golf expo and enjoy the live entertainment. In the past the likes of David Feherty, Annika Sorenstam, Brandel Chamblee and Win McMurray have entertained and engaged World Am participants with their quick wit and stories about their lives and the PGA Tour.
Throughout the week, I had the pleasure of playing with several excellent golfers, many of whom had played in this event before. One of my playing companions told me this was his 14th year competing in the World Am. "This event provides the opportunity to compete, feel your nerves tighten and your knees knock on the first tee," he said. "There's nothing like this in the U.S. for amateur golfers. For a week I get to experience something as close to what a tour pro would feel competing in a PGA Tour event. That's what brings me back every year."
Another of my playing partners, a 9-year tournament veteran from Georgia, was equally passionate about playing in the World Am.  "When I flip my yearly calendar over, the first thing I do is circle the dates of the World Am and book the last week of August off from work. Then I book off Thanksgiving and Christmas."
Chris King, the Communication Director for Myrtle Beach Golf Holiday, summed up the meaning of the World Am best. "This is a golfer's event, people enjoy the game, they like competing," he told me. "But it's a lot more than 72 holes of golf, it's the 19th hole, the people you meet and the friendships you make while you're here. That's what the World Am is all about. It's a celebration of golf."
This year was the second time I've played in the World Am. For decades I've enjoyed the game of golf but playing in the World Am again this year was the highlight of my 2014 season. Not only did I learn about myself, I learned about what makes golf so great. Bobby Jones once said, "There is golf and then there is tournament golf." So true. In addition to having a great time, I learned that if you truly want to develop as a golfer and improve your game, play tournament golf.
So check out the World Am for yourself August 31–September 4, 2015. 3,000 golfers, 72 holes, 1 champion and memories for a lifetime.  I guarantee you'll love the experience.
For Tournament Information and Registration:
www.worldamgolf.com, 1-800-833-8798
For Information about Myrtle Beach: