After a decade of diligent planning and preparation, the stage is set to welcome the world's best golfers to the 38th edition of the Ryder Cup in Newport, Wales October 1-3, 2010.

Plenty has changed since 1927 when the first official Ryder Cup match was played between the USA and Great Britain at the Worcester Country Club in Worcester, Massachusetts. Had it not been for the vision of determined English businessman Samuel Ryder, the Ryder Cup would not exist today. It was after an exhibition match between Great Britain and the USA that Ryder decided to support a biennial competition between the two nations. Players from the winning team would receive the princely sum of 5 pounds each but more importantly, bragging rights and possession of the prestigious Ryder Cup trophy for two years until the playing of the next competition. For years, the U.S team dominated Great Britain having won all but one match between 1933 and 1985. In 1973, Great Britain joined forces with Ireland and in 1979, the rest of Europe. What was once a lopsided affair is now closely contested and one of the biggest sporting events in the world with the outcome frequently determined on the very last hole.

Celtic Manor Resort

The host of this year's Ryder Cup is the 5-star Celtic Manor Resort, a 1,400 acre estate owned by Welsh telecommunications magnate Sir Terry Matthews. Situated in the rolling hills of the Welsh countryside, the resort is conveniently located between Wales' two largest cities - Newport and Cardiff, the latter being the country's capital and business centre. Purchased in 1980, the property was formerly a coal magnate's residence and later a maternity hospital. Although Terry Matthews was born here, his decision to build the most luxurious hotel in all of Britain was not based solely on sentiment. It was on this site that he envisioned the development of a world class resort. At a cost of $250 million, Celtic Manor Resort is the single largest private investment in the British hospitality industry.

Celtic Manor The Twenty Ten - 14th Hole
Photo Courtesy of Celtic Manor Resort

This year's Ryder Cup matches will be played on the 7,493-yard, par 71 "2010 Course", one of three championship layouts that comprise the Celtic Manor Resort. Designed by European Golf Designs, the course opened in July 2007 after a massive redevelopment project that involved the construction of nine new holes being added to nine existing holes from the former Wentwood Hills championship course. Carved through the beautiful Usk Valley, the 2010 course was designed specifically to host the Ryder Cup and features water hazards on no fewer than nine holes. Unlike previous Ryder Cup venues, fans are assured of being able to see most of the action – most notably on the 16th, 17th and 18th holes - as the golf course was designed to accommodate crowds of 50,000 per day during the 3-day competition.  

This is the first time Wales has hosted the Ryder Cup. Not surprisingly, there is a buzz throughout this country of 3 million people and home of more than 600 castles and 200 golf courses. The Welsh are proud of their golf heritage and look forward to showcasing not only their golf courses but their culture and history that differentiates them from their English neighbours.  

Harlech Castle at Royal St. David's
Leading the charge is the pride of Welsh golf and 1991 Masters Champion, Ian Woosnam. Having played on several Ryder Cup teams and served as the captain of the victorious European team in 2006, Woosnam knows a thing or two about what it takes to host a successful Ryder Cup. His passion, combined with Sir Terry Matthews' commitment to make the 2010 Ryder Cup the best one ever, makes for a formidable team that will surely deliver.

If you plan to visit Wales for the Ryder Cup be sure to bring your golf clubs. September and October are great months to play golf in Wales and experience some of the best golf courses in the world.

Here are some excellent golf courses I have played and highly recommend. If links courses are your preference I would suggest Tenby (the oldest course in Wales), Aberdovey, Royal St. David's, Pennard, Pyle and Kenfig, Nefyn, and perhaps my favourite links course period, Royal Porthcawl. These are all authentic links courses that will introduce you to a totally different golf experience.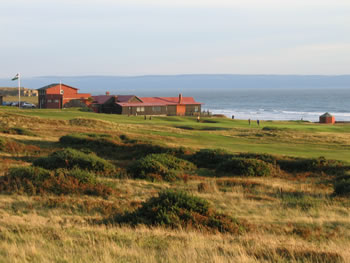 Royal Porthcawl Golf Cub
Most Canadian golfers will likely prefer to play nothing but links courses while in Wales. I totally understand this thinking. In fact, during my most recent visit to Wales I was reluctant to stray too far from the sea. Fortunately I was in the company of a knowledgeable Welshman who suggested we head inland and experience two of Wales' best parkland golf courses. The courses we played were the Vale of Llanggollen Golf Club and the Llanymynech Golf Club (don't bother trying to pronounce the names of these two clubs unless you speak Gaelic), the latter being the course Ian Woosnam played as a junior and is most famous for its 340-yard, par 4, 4th hole. It is on this hole that you tee off in Wales and putt out in England. It may be the only place in the world where you can freely enter another country without having to declare anything at the border or deal with an ornery customs officer!      

Several years ago, the phrase "Golf as It Should Be" was developed to promote golf in Wales. After years of anonymity and playing second fiddle to neighboring Scotland and Ireland, Wales is no longer a secret among avid golfers worldwide. For good reason, this catchy slogan has now become synonymous with golf in Wales. I can only imagine what people will be saying after the 2010 Ryder Cup.